Complete Story

10/28/2022
010. Value-Added Selling: How to Sell More Profitably by Competing on Value, Not Price!
Instructor: Paul Reilly
Level of Complexity: Intermediate
1:00 PM - 4:30 PM
Today's sellers face familiar challenges at unprecedented levels. Markets are flooded with tough competitors selling similar products and services. With the commoditization of products and services, customers become increasingly price-sensitive. Technology has created even more competition and pricing transparency. It's no wonder that selling value remains one of the greatest challenges facing today's sales professionals. In this workshop, Paul will introduce you to Value-Added Selling. You'll learn several ideas that will help you implement this go-to-market strategy.
He will address several key questions: What sets you apart from your competitors? Why should customers buy from you? How can you get them to return to you again and again? What if I told you that you can compete aggressively and outsell the competition while maintaining your profitability? You can compete aggressively and profitably based on your total value and not on price.
---
Bookstore
Mary C. Kelly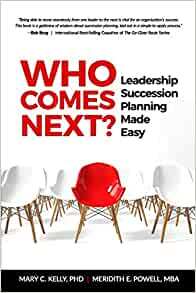 Leaders leave. It's inevitable. It might even happen today. Are you prepared? Every organization needs a plan for leadership succession, but few leaders know how to start the process. WHO COMES NEXT? solves that problem and easily guides you through the steps of creating and implementing a viable succession plan.
This essential guidebook simplifies the process and gives you the tools you need to build and activate your leadership succession. You'll find a comprehensive action plan, a library of all the tools needed to develop and sustain your plan, and a resource guide. You'll learn how to:
Communicate with customers about the change
Identify talent gaps in your succession plan
Decide which succession planning model to adapt
Find the next generation of leadership within your organization
Handle the unique emotional complexities of succession in a family-owned business
Whether you are part of a small, family business, a Fortune 500 company, or a non-profit, you need to start now by answering the question: WHO COMES NEXT?