Complete Story

03/13/2014
Sales and Marketing Optimization: Developing Competitive Value Propositions in Distribution
Senthil Gunasekaran, Pradip Krishnadevarajan, F. Barry Lawrence, Ph.D.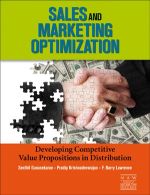 Sales and Marketing Optimization: Developing Competitive Value Propositions in Distribution is a first-of-its-kind, best practices study that focuses on aligning customer needs, sales force priorities, and wholesaler-distributor objectives to maximize value creation.
---
Bookstore
Jim Ambrose
This 5 Fundamentals for the Wholesale Distribution Branch Manager, Second Edition is the classic step-by-step guide to helping branch managers improve their business and leadership skills. "If winning means profitable market share and profitable market share growth, then developing the branch manager is essential to a company's success," he says.