Complete Story

03/13/2014
Sales and Marketing Optimization: Developing Competitive Value Propositions in Distribution
Senthil Gunasekaran, Pradip Krishnadevarajan, F. Barry Lawrence, Ph.D.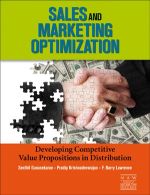 Sales and Marketing Optimization: Developing Competitive Value Propositions in Distribution is a first-of-its-kind, best practices study that focuses on aligning customer needs, sales force priorities, and wholesaler-distributor objectives to maximize value creation.
---
Bookstore
Colleen Stanley
You have the best sales team, the latest technology, information, and education, yet only 53% of sales representatives are meeting or exceeding their quotas. The one-piece most sales leaders neglect is hiring for and developing Emotional Intelligence skills.
Learn how emotional intelligence and the developing critical soft skills required for relationship-building outperform yet more sales technology and fad techniques.