Complete Story

10/31/2022
045. The Real World of Distributor Sales Transformation
Instructor: J. Michael Marks
Level of Complexity: Intermediate
8:00 AM - 9:30 AM
This workshop is focused on how to improve both the efficiency and effectiveness of a distributor's selling efforts. It is easy to describe and hard to do, so the session focuses on specific practices from over 100 distributors that have gone down this path where some have been on it for ten years. Mike will share specifics and name several distributors who are recognized in the field as leaders, both small and large. The session will cover how marketing takes over the front end of the sales pipeline, the specialization of selling roles that separate market making from market serving, the specialization of incentive practices, how to get a CRM to actually work, and how to build a practical light touch sales Management (Incl HR) (Incl HR) and coaching process.
---
Bookstore
Mike Marks and Mike Emerson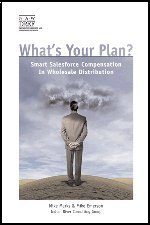 According to authors Mike Marks and Mike Emerson in their book, What's Your Plan? Smart Salesforce Compensation in Wholesale Distribution, there is absolutely no relationship between your sales incentive plan and your likely gain or loss in market share.