Complete Story

10/28/2022
012. Intentional Conversations: What Science Teaches Us About Better Communication Skills & Improved Sales Pitches
Instructor: Jamie Turner
Level of Complexity: Intermediate
1:00 PM - 4:30 PM
Would you like to improve your communication skills? Do you want to do a better job connecting with your prospects and customers? Would you like to learn science-based techniques you can use to close more deals, work with teammates more effectively, and grow your sales? The world's top executives understand the science behind effective communication and persuasion skills. They also know what backfires when it comes to communicating with customers and prospects. If you'd like to become a more effective salesperson, team leader, or employee, then don't miss this interactive, fast-paced workshop by internationally recognized author, professor, and TV news contributor Jamie Turner.
---
Bookstore
Mike Marks and Mike Emerson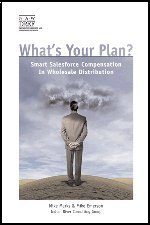 According to authors Mike Marks and Mike Emerson in their book, What's Your Plan? Smart Salesforce Compensation in Wholesale Distribution, there is absolutely no relationship between your sales incentive plan and your likely gain or loss in market share.