Complete Story

03/13/2014
5 Fundamentals for the Wholesale Distribution Branch Manager
Jim Ambrose
This 5 Fundamentals for the Wholesale Distribution Branch Manager, Second Edition is the classic step-by-step guide to helping branch managers improve their business and leadership skills. "If winning means profitable market share and profitable market share growth, then developing the branch manager is essential to a company's success," he says.
---
Bookstore
F. Barry Lawrence, Ph.D., Senthil Gunasekaran, Pradip Krishnadevarajan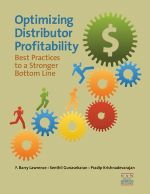 There are 47 best practices in Optimizing Distributor Profitability: Best Practices to a Stronger Bottom Line and all were developed from actual experiences of 84 real wholesale distribution firms across our industry. This groundbreaking research study is not academic modeling or theory; it is a powerful weapon for you to use to enhance your shareholder value.