Complete Story

10/28/2022
011. Leaders are not Born. They are Built!
Instructor: Randy Disharoon
Level of Complexity: Intermediate
1:00 PM - 4:30 PM
In this workshop, participants will learn the four phases of leadership development: 1) Build Within – they will conduct a personal leadership assessment and begin to assimilate the four keys to developing their capacity to lead themselves and others. 2) Build Around – they will employ the five keys to recruiting and retaining top talent and cultivate the power of communication. 3) Build Up – they will discover the seven steps to developing a winning culture and how to lead during times of change and/or crisis. 4) Build Out – they will strategize how to influence their industry and community and brainstorm ways to pass success on to the next generation of leaders.
---
Bookstore
Mike Emerson, Steve Deist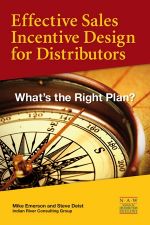 Effective Sales Incentive Design for Distributors: What's the Right Plan? is designed for top wholesale distribution executives and sales managers who are looking for the answer to this question: "How can I get my sales reps to just do what I want them to do?"