Complete Story

10/27/2022
004. Finding the Balance: People, Product and Profitability
Instructor: Jason Bader
Level of Complexity: Intermediate
9:30 AM - 12:15 PM
This workshop is all about building a profitable operation. Managers of these locations need to understand how to lead their teams down the path of profitability. It starts with getting everyone on the same page so that the location can provide a superior customer service experience. At the same time, the manager needs to be accountable for the asset have responsibility over. This is the balancing act of every effective manager. In this session, we will cover the basics of coaching, managing, and driving your way to profitable location growth.
---
Bookstore
F. Barry Lawrence, Ph.D., Senthil Gunasekaran, Pradip Krishnadevarajan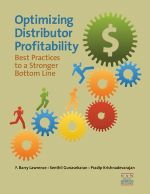 There are 47 best practices in Optimizing Distributor Profitability: Best Practices to a Stronger Bottom Line and all were developed from actual experiences of 84 real wholesale distribution firms across our industry. This groundbreaking research study is not academic modeling or theory; it is a powerful weapon for you to use to enhance your shareholder value.