Complete Story

10/12/2021
046. Decoding Your Customers! Perfecting the Customer Experience in Four Simple Steps
Instructor: Jeff Havens (New to UID)
Level of Complexity: Intermediate
8:00 AM - 9:30 AM
Decoding Your Customers: Perfecting the Customer Experience in Four Simple Steps will provide you with a comprehensive, straightforward, and entertaining explanation for how to win hearts and minds. Jeff takes a vastly different approach by concentrating on the human behaviors that have brought the customer experience to where it is today, then synthesizes those behaviors into four simple realities that provide a clear vision for how to move forward. Decoding Your Customers will answer why customers behave the way they do and how you can meet their needs – not only today, but into the foreseeable future as well. You'll walk away with a better understanding of customer psychology and how to adjust your business accordingly. Jeff will give you serious solutions in a seriously funny way. It turns out that crafting a winning customer experience strategy isn't as scary or unpredictable as others may have made it seem.
---
Bookstore
F. Barry Lawrence, Ph.D., Senthil Gunasekaran, Pradip Krishnadevarajan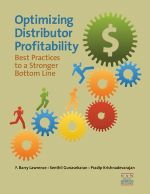 There are 47 best practices in Optimizing Distributor Profitability: Best Practices to a Stronger Bottom Line and all were developed from actual experiences of 84 real wholesale distribution firms across our industry. This groundbreaking research study is not academic modeling or theory; it is a powerful weapon for you to use to enhance your shareholder value.