Complete Story

10/12/2021
030. Personnel Productivity Improvement: Strategic Recruiting & Onboarding to Hire for the Long Haul
Presenter: Kathy Newton, Ph.D.
Level of Complexity: Intermediate
8:00 AM - 11:30 AM
You will learn how to take a "systems" viewpoint of the organization, learning tools to identify productivity gaps in your firm and evaluate changes needed in a pandemic-prone world. You will learn to work towards a balance for employee activities such as recruiting and hiring great people, onboarding, and using technology and engagement to gain employee impact. You will also learn key strategies to consider for compensation, and the perk you must use to hire the best employees.
---
Bookstore
Mike Marks and Mike Emerson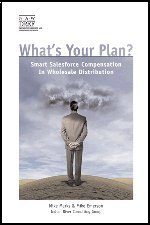 According to authors Mike Marks and Mike Emerson in their book, What's Your Plan? Smart Salesforce Compensation in Wholesale Distribution, there is absolutely no relationship between your sales incentive plan and your likely gain or loss in market share.