Complete Story

10/11/2021
017. What Really Matters… for Executive Leadership
Instructor: Joe Ellers
Level of Complexity: Advanced
8:00 AM - 11:30 AM
The recent social and economic crises which have gripped the world have only strengthened the need for clarity at the top levels of every organization. Possibly the most important question facing every business leader is the question: Where do I focus the efforts of our organization?
While there are definitely "artistic" elements of leadership, most organizations that are successful over-time (and generations) rely on processes. In this program, we will look at the specific areas where both clarity and cohesion are required to overcome current obstacles such as Strategy, Goals, and Metrics.
By the end of the session, the participants will have a draft plan that they can bring back to their organization.
---
Bookstore
Pradip Krishnadevarajan, Senthil Gunasekaran, F. Barry Lawrence, Ph.D., Brijesh Rao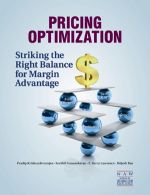 Forward-thinking wholesaler-distributors who strive for above-average returns in the "New Normal" by leveraging pricing optimization best practices that are rooted in sound analytics must read Pricing Optimization: Striking the Right Balance for Margin Advantage!