Complete Story

10/07/2021
005B.Explore Your Behavioral Style - Take the TrimetrixEQ Assessment
Instructor: Dave Neely (New to UID)
Level of Complexity: Foundational
1:00 PM - 4:30 PM
This session is a repeat of the morning session. Those registering for this unique session will be sent a link to take the Timetrix® EQ assessment in preparation for this workshop.
This assessment will provide you three perspectives: your behavior style – how you prefer to behave and communicate; your personal motivators – why they move you to act; and your emotional intelligence – do you apply the principles of EI. With individual results in hand, this session will provide insights into your natural behavior and your inner motivators. What you learn will help you deal more effectively with others and give you a jump start in developing our personal action plan. This session will leave you inspired and more optimistic about your path forward.
Note: UID staff will email participants instructions and a link to the assessment two weeks in advance of the program. Please do not register for this workshop if you are unsure if you want to do the pre-work. Only you and the instructor will have access to your results.
---
Bookstore
Brent Grover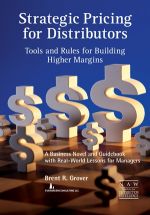 Experience shows that most distributors are leaving at least two percentage points of gross trading margin on the table. This translates into 2% of total sales. Many companies can ultimately achieve more. The improvement is attainable fairly quickly and has proven to be sustainable. Two percent is the difference between mediocre profit results and stellar performance!