Complete Story

10/07/2021
014. Program Management: Key Components (and Tools) for Success
Instructor: Anne Patterson
Level of Complexity: Foundataional
1:00 PM - 4:30 PM
Program management represents the highest level of complexity – and responsibility – in an organization's efforts to manage strategic initiatives. Not surprisingly, there are as many definitions and conceptions of program management as there are companies. In this course we will clarify the standard attributes of program management and explore the skillset required to be a successful program manager. What is the difference between program management, project management, and product management? What are the key skills required to be a successful program manager? How to lead with your strengths and mitigate your areas of weakness. Explore the key leadership skills specific to program management and how to improve yours. Metrics and measuring success. Tools and techniques to facilitate communication and accountability. How to interview for (or hire for) a program management position. These are just some of the topics we cover in our course "Program Management: Key Components (and Tools) for Success" as we take a dive deep into the role that is a key steppingstone on the career path from individual contributor to senior management.
---
Bookstore
Mike Marks and Mike Emerson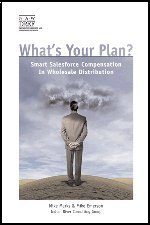 According to authors Mike Marks and Mike Emerson in their book, What's Your Plan? Smart Salesforce Compensation in Wholesale Distribution, there is absolutely no relationship between your sales incentive plan and your likely gain or loss in market share.