Complete Story

01/11/2021
023. P.I.V.O.T. - Strategic and Tactical Leadership Through a Crisis to Grow Your Business
Instructor: Mary Kelly, Ph.D., CSP, CPAE, Commander, USN (ret)
Level of Complexity: Intermediate
1:10 – 2:40 p.m.
Do you know the 6 stages of responses during a crisis? When facing a crisis, most people remain in stages 1-4 of the 6 stages. This is normal and instinctive as people move to protect what is closest to them. There is a silver lining. Every crisis is a catalyst for innovation, creativity, invention, and advancement. This is why leaders have to be in stages 5 and 6. Stages 5 and 6 is where leaders find the opportunities. In this engaging and entertaining course, Mary uses lessons from the Gulf Wars and 9-11 to get us through the painful aspects of our challenges, embrace change, and turn disruption into evolution.
---
Bookstore
F. Barry Lawrence, Ph.D., Senthil Gunasekaran, Pradip Krishnadevarajan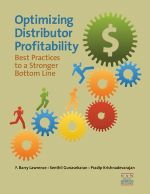 There are 47 best practices in Optimizing Distributor Profitability: Best Practices to a Stronger Bottom Line and all were developed from actual experiences of 84 real wholesale distribution firms across our industry. This groundbreaking research study is not academic modeling or theory; it is a powerful weapon for you to use to enhance your shareholder value.