Complete Story

01/11/2021
010. Appreciation Strategies to Boost Your Business and Lift Your Life
Instructor: Lisa Ryan
Level of Complexity: Foundational
4:10-5:00 p.m.
COVID-19 has turned our world upside down. When the frustration, stress, and confusion associated with all of the new processes, technologies, and ways of doing business, it's sometimes hard to find anything good about our current situations. In this course, you'll have the opportunity to learn and be reminded of principles that make a difference. In this interactive and FUN course, Lisa will S.H.O.W. you the immense power of gratitude in four areas. Finally, you'll find out the influence of gratitude on WEALTH/WORKPLACE to see how you can bring these principles into the workplace. You will leave this course with specific ideas that produce dramatic and positive results in your perspective health, wealth and happiness.
---
Bookstore
Steve Deist, Mike Marks, Mike Emerson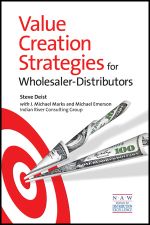 In Value Creation Strategies for Wholesaler-Distributors, authors Steve Deist, Mike Marks, and Mike Emerson provide highly actionable insights about how wholesaler-distributors can use a market-driven strategy to increase enterprise value for customers and shareholders.