Complete Story

01/11/2021
007. A New Way to Look at Your Brand: Crafting a Story Your Customers Care About
Instructor: Steve Yastrow
Level of Complexity: Foundational to Advanced
3:10 – 4:00 p.m.
Why are most marketing messages ignored? Because companies communicate information that isn't important to customers, in formats that don't connect with customers. In this course, Steve will describe how your customers think in stories, not in bullet points. And the stories your customers care about most are stories about themselves, not about you. Steve will teach you that "your brand is not what you say you are, it's what your customers think you are," and describe ways to craft customer-centered brand stories that will motivate customers to want to do business with you – and not with your competition.
---
Bookstore
Mike Marks and Mike Emerson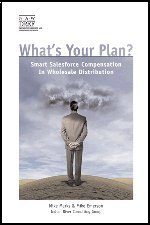 According to authors Mike Marks and Mike Emerson in their book, What's Your Plan? Smart Salesforce Compensation in Wholesale Distribution, there is absolutely no relationship between your sales incentive plan and your likely gain or loss in market share.