Complete Story

01/11/2021
006. The Modern Distributor: Digital Transformation
Instructor: Andrew Johnson
Level of Complexity: Advanced
3:10 – 4:00 p.m.
Whether your company is looking at pulling the trigger on a new eCommerce platform, an ERP system, or discussing grand ideas like Industry 4.0, too many industrial distributors are falling prey to the temptation to swing for the innovation fences, attempting to hit an innovation homerun, inevitably striking out. This course will tackle the topic of innovation in practical terms with a discussion lead by a true practitioner with a desire to share his story and in so doing help other distributors find their way in the ever-changing landscape. We will explore what a digital distributor looks like and how this digital transformation may affect the structure, policies, and tactics of traditional distribution companies. Next, we will pivot, taking a look at the future of Distribution and what goals we need to set for ourselves to stay competitive.
---
Bookstore
Senthil Gunasekaran, Pradip Krishnadevarajan, F. Barry Lawrence, Ph.D.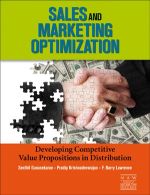 Sales and Marketing Optimization: Developing Competitive Value Propositions in Distribution is a first-of-its-kind, best practices study that focuses on aligning customer needs, sales force priorities, and wholesaler-distributor objectives to maximize value creation.