Complete Story

01/11/2021
006. How to Keep Your Top Talent from Becoming Someone Else's
Instructor: Lisa Ryan
Level of Complexity: Intermediate
8:30 AM - 11:45 AM
It's no secret. Your best employees have the power to take their skills to your competition. Your favorite customers can source products and services from anywhere in the world at the click of a button. The bottom line is that you are faced with an enormous challenge: keeping your top talent and best customers from becoming someone else's! In times of high unemployment, it's even more important for you to retain the key people who keep your distribution center running. Your best people not only know your business, they know how to get results - and they are difficult to replace. Unfortunately, the Gallup organization reports close to 71% of all employees feel unsupported, detached, or disengaged from their current employer. The impact costs US businesses more than $450 billion in lost productivity each year. So, what about your customers leaving? Research shows that 68% of customers stop doing business with a company because they feel ignored, unappreciated or taken for granted. If your employees aren't engaged, your customers won't be either. What if there was a better way – that didn't require tons of effort, time or money? Good news! By participating in this interactive, engaging and fun program you will gain the ideas, strategies, and actions you can use immediately to keep your top talent and best customers from becoming someone else's. It's time to master a few simple strategies now … and reap the rewards for years to come.
---
Bookstore
Steve Deist, Mike Marks, Mike Emerson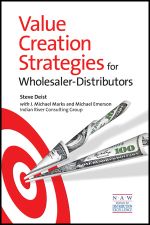 In Value Creation Strategies for Wholesaler-Distributors, authors Steve Deist, Mike Marks, and Mike Emerson provide highly actionable insights about how wholesaler-distributors can use a market-driven strategy to increase enterprise value for customers and shareholders.