Complete Story

10/27/2022
000. Work to a Different Beat: Own Your Mindset, Meaning, and Performance
Instructor: Justin Jones-Fosu (New to UID)
Level of Complexity: Foundational
8:15 AM - 9:15 AM
In this opening keynote, Justin will share an inside-out approach powered by practical research that empowers you and your people to bring their best selves to work every day. Using the African drum as a metaphor for bringing meaning, Justin creates a customized and unforgettable experience that will inspire your audience to take immediate action in how they show up.
---
Bookstore
F. Barry Lawrence, Ph.D., Senthil Gunasekaran, Pradip Krishnadevarajan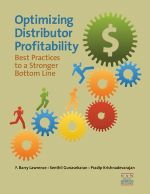 There are 47 best practices in Optimizing Distributor Profitability: Best Practices to a Stronger Bottom Line and all were developed from actual experiences of 84 real wholesale distribution firms across our industry. This groundbreaking research study is not academic modeling or theory; it is a powerful weapon for you to use to enhance your shareholder value.