Complete Story

10/11/2019
013 The Modern Distributor: Digital Transformation (Full)
Presenter: Andrew Johnson
Date: Sunday, March 8, 2020

Time: 1:00-4:30 pm

Level of Complexity: Advanced
Course Description: This course will tackle the topic of innovation in practical terms with a discussion lead by a true practitioner with a desire to share his story and in so doing help other distributors find their way in the ever-changing landscape. We will explore what a digital distributor looks like and how digital transformation may affect the structure, policies, and tactics of traditional distribution companies.
Learning Objectives:
Leading a conversation regarding your company's need for an innovation strategy
Adequately define your intended outcomes
Develop a practical approach to achieve those outcomes
Be prepared to deal with the fallout innovation will bring to your organization
Andrew, CEO of ShelfAware, is an entrepreneur, inventor, and business owner. Formerly the sales manager at the family distribution company, O-ring Sales & Service, he is now pursuing a new endeavor, a tech startup called ShelfAware, which is attempting to redefine industrial distribution by leveraging RFID technology, the internet, and the power of data. He is also lucky to work with his three equally talented and passionate brothers.
---
Bookstore
Steve Deist, Mike Marks, Mike Emerson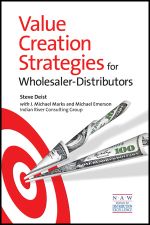 In Value Creation Strategies for Wholesaler-Distributors, authors Steve Deist, Mike Marks, and Mike Emerson provide highly actionable insights about how wholesaler-distributors can use a market-driven strategy to increase enterprise value for customers and shareholders.