Complete Story

10/11/2019
036 Increasing Engagement & Motivation: Keys to Bridging the Intergenerational Divide
Presenter: Abram Walton, Ph.D.
Date: Tuesday, March 10, 2020

Time: 1:00-4:30 pm

Level of Complexity: Intermediate
Course Description: Effective talent recruitment, selection, and management requires leaders to move beyond mere stereotypical understandings of generational differences, and to create a bridge between the differences in communication and decision-making styles, training and development needs, conflict-resolution styles, and overall job expectations. This course will introduce intergenerational selection and management techniques including succession planning, mentoring courses, and using behaviorally anchored rating scales and interview questions.
Learning Objectives:
Understand how authentic and effective intergenerational leadership can increase workplace engagement and create competitive advantage by fostering of a culture of inclusiveness and collaboration
Understand sources of intergenerational conflict and identify successful conflict management strategies
Understand how to increase engagement & motivation across generations by focusing on recruitment, talent management, and what people what from their work
Abram is an author, consultant, and researcher specializing in Strategic Innovation, Human Capital Management, and Leadership Development with a focus on developing business models that create sustainable competitive advantage. He takes a unique systems-thinking approach, which has cultivated multi-disciplinary collaborations, generating innovative organizational strategies and best practices.
---
Bookstore
Mike Marks and Mike Emerson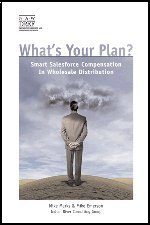 According to authors Mike Marks and Mike Emerson in their book, What's Your Plan? Smart Salesforce Compensation in Wholesale Distribution, there is absolutely no relationship between your sales incentive plan and your likely gain or loss in market share.