Complete Story

10/11/2019
009 Lights, Smartphone, ACTION! A Hands-On Video Workshop
Presenter: Beth Ziesenis
Date: Sunday, March 8, 2020

Time: 1:00-4:30 pm
Level of Complexity: Intermediate
Course Description: This hands-on workshop teaches you dozens of easy, budget-friendly tech tools to make professional-level videos on the cheap and on the fly. You'll learn how to turn photos from your websites to create a highlight video to send to prospects. You'll discover strategies for turning longer video clips of your products in action into exciting short promo videos. We'll cover everything you need to up your video game, from GIFs to video postcards to conversion tools so your creations can be shared on a number of platforms.
Learning Objectives:
Design at a short multimedia image or video
Develop your storytelling and image-creation skills for better multimedia content
Evaluate different multimedia tools and apply strategies for their best uses in your business
BONUS! Take home an e-book with more video tools and instruction
Beth Z is your New Nerdy Best Friend…Author. Speaker. Nerd.
Since her first Motorola RAZR flip phone, Beth Z has made a verb out of the word "nerd."
---
Bookstore
Mike Marks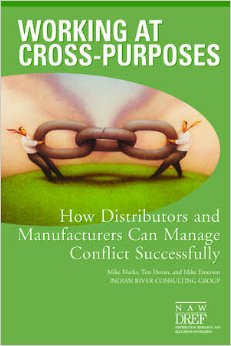 It takes a long time to develop good distributor-supplier relationships; unfortunately, it only takes a short time to destroy them. Best seller Working at Cross-Purposes, written by Mike Marks, Tim Horan, and Mike Emerson, takes a look at what really drives these relationships, how often they go bad, and why.