Complete Story

01/31/2023
Thank You Very Much: Gratitude Strategies to Create a Workplace Culture that ROCKS!
Lisa Ryan
Gratitude is a powerful force in our personal lives, and it can also be a "gateway drug" to creating a more empathetic workplace. Four simple words – "Thank you very much" can make all the difference.

Research studies define APPRECIATION as "seeing the positives in events, experiences, or other people." However, GRATITUDE takes it one step further in that gratitude acknowledges that the good things that happen to us are often a result of forces outside of ourselves, mainly stemming from other people's efforts.

You will also learn through several case studies of leaders and their efforts to create a workplace culture that ROCKS! Finally, each chapter ends with ideas that you can implement as an individual, a manager, and an organization.
---
Bookstore
Mary C. Kelly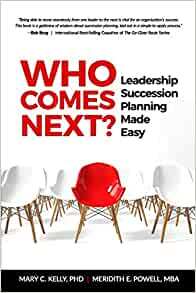 Leaders leave. It's inevitable. It might even happen today. Are you prepared? Every organization needs a plan for leadership succession, but few leaders know how to start the process. WHO COMES NEXT? solves that problem and easily guides you through the steps of creating and implementing a viable succession plan.
This essential guidebook simplifies the process and gives you the tools you need to build and activate your leadership succession. You'll find a comprehensive action plan, a library of all the tools needed to develop and sustain your plan, and a resource guide. You'll learn how to:
Communicate with customers about the change
Identify talent gaps in your succession plan
Decide which succession planning model to adapt
Find the next generation of leadership within your organization
Handle the unique emotional complexities of succession in a family-owned business
Whether you are part of a small, family business, a Fortune 500 company, or a non-profit, you need to start now by answering the question: WHO COMES NEXT?