Complete Story

01/31/2023
Mastering Global Business Development and Sales Management
Thomas A. Cook
Mastering Global Business Development and Sales Management

focuses on the importance of companies and executives recognizing that their organization is sales driven, and that there is a definite pronounced connection between sales and all other aspects of how a company operates. It details the sales manager's role in developing sales personnel, delivering new business to the organization, and otherwise becoming a driving force for the overall prosperity of the company. This book differentiates itself by providing the essence of international sales management.
---
Bookstore
F. Barry Lawrence, Ph.D., Senthil Gunasekaran, Pradip Krishnadevarajan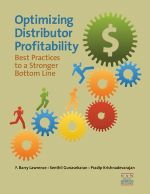 There are 47 best practices in Optimizing Distributor Profitability: Best Practices to a Stronger Bottom Line and all were developed from actual experiences of 84 real wholesale distribution firms across our industry. This groundbreaking research study is not academic modeling or theory; it is a powerful weapon for you to use to enhance your shareholder value.