Complete Story

10/31/2022
050. The People Productivity Equation: How to Practice No Surprise Management
Instructor: Kathryn Newton, Ph.D.
Level of Complexity: Foundational
9:45 AM - 11:15 AM
In this workshop, Kathy will share a systems approach to maintaining a productive work environment for your employees and learn how to beat the "great resignation." In 2022, only 24% of Americans believe their managers had their best interests at heart. Learn why no-surprise Management (Incl HR) (Incl HR) is important to change that viewpoint with key leadership skills. This course will help you manage ongoing change and conflict, as well as provide you with the best training tools for advancing your workforce. Lastly, you will discover the number 1 reason employees quit their managers and how the biggest decision you make can prevent that.
---
Bookstore
Brent Grover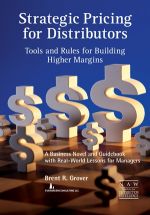 Experience shows that most distributors are leaving at least two percentage points of gross trading margin on the table. This translates into 2% of total sales. Many companies can ultimately achieve more. The improvement is attainable fairly quickly and has proven to be sustainable. Two percent is the difference between mediocre profit results and stellar performance!