Complete Story

10/28/2022
028. The Steps You Can Take to Improve Your Customer Experience
Instructor: Steve Yastrow
Level of Complexity: Intermediate/Advanced
1:00 PM - 4:30 PM
Since writing his book Brand Harmony nearly 20 years ago, Steve has had the opportunity to help hundreds of companies improve their customer experiences. In this workshop, he will cover the key steps in creating a more unified customer experience that drives customer loyalty. You'll learn how to identify gaps in your current customer experience, how to prioritize which parts of your customer experience should be improved, how to get your whole team onboard as you make improvements, and how to ensure your company follows through on improving your customer experience. The result of creating a more unified customer experience: Your customers love you more, your employees are more engaged, and your business improves.
---
Bookstore
F. Barry Lawrence, Ph.D., Senthil Gunasekaran, Pradip Krishnadevarajan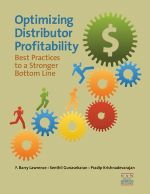 There are 47 best practices in Optimizing Distributor Profitability: Best Practices to a Stronger Bottom Line and all were developed from actual experiences of 84 real wholesale distribution firms across our industry. This groundbreaking research study is not academic modeling or theory; it is a powerful weapon for you to use to enhance your shareholder value.