Complete Story

10/28/2022
026. Purchasing, Replenishment, & Advanced Inventory Management
Instructor: Colin Dees (New to UID)
Level of Complexity: Advanced
1:00 PM - 4:30 PM
In this workshop, Colin will cover advanced purchasing, replenishment, and inventory management methods including advanced demand forecasting, lead time management, order cycle analysis, and other key business analytics for key decision-making strategies. Other topics to be addressed are replenishment strategies for re-Distribution Strategy and/or hub and spoke decision-making with real-world examples.
---
Bookstore
Senthil Gunasekaran, Pradip Krishnadevarajan, F. Barry Lawrence, Ph.D.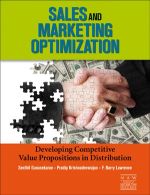 Sales and Marketing Optimization: Developing Competitive Value Propositions in Distribution is a first-of-its-kind, best practices study that focuses on aligning customer needs, sales force priorities, and wholesaler-distributor objectives to maximize value creation.