Complete Story

10/28/2022
025. Effective Warehouse Management
Instructor: Matt Schreibfeder (New to UID) & Jon Schreibfeder
Level of Complexity: Intermediate
1:00 PM - 4:30 PM
Every distributor has one or more warehouses. But few realize that efficient and effective warehouse operations are a key element to success and profitability. In this workshop, we will explore how a few simple practices will help you ensure that the on-hand quantities of stocked products are consistently accurate and that you efficiently store items in order to minimize the cost of filling orders. Included will be a presentation of a cost/benefit analysis of implementing new material-handling technology.
Topics will include: efficient warehouse layouts, having the "right" people in the "right" job, best practices in organizing and processing warehouse activities, preventing errors, maintaining a safe and productive work environment, selecting appropriate storage units, determining the space required to stock each item, equipment selection, and metrics to monitor warehouse performance
---
Bookstore
Mary C. Kelly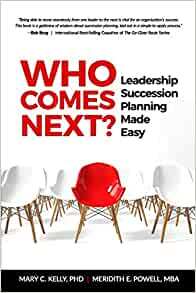 Leaders leave. It's inevitable. It might even happen today. Are you prepared? Every organization needs a plan for leadership succession, but few leaders know how to start the process. WHO COMES NEXT? solves that problem and easily guides you through the steps of creating and implementing a viable succession plan.
This essential guidebook simplifies the process and gives you the tools you need to build and activate your leadership succession. You'll find a comprehensive action plan, a library of all the tools needed to develop and sustain your plan, and a resource guide. You'll learn how to:
Communicate with customers about the change
Identify talent gaps in your succession plan
Decide which succession planning model to adapt
Find the next generation of leadership within your organization
Handle the unique emotional complexities of succession in a family-owned business
Whether you are part of a small, family business, a Fortune 500 company, or a non-profit, you need to start now by answering the question: WHO COMES NEXT?