Complete Story

10/28/2022
014. Tool Up: How to Select, Implement, and Manage Software so Your Technology Works for You
Instructor: Anne Patterson
Level of Complexity: Foundational
1:00 PM - 4:30 PM
Today's Small to Medium Enterprises (SMEs) has an unprecedented selection of software solutions. And cloud-based hosting has virtually exploded the number of options. But with the plethora of alternatives comes the challenge: how to select the solution that best fits your company's needs? And once selected, how to implement – without bleeding the organization's budget and bandwidth? And once implemented, how to leverage to move the needle on operational performance? In this workshop, three topic areas will be covered: (1) Software selection: Know what you need: clearly define your must-haves and nice-to-haves BEFORE you start looking for solutions. [A sample needs analysis template will be provided to students.] Where to look? What to look for? Cloud vs server? 2) Implementation: The recipe for success, from team structure and accountabilities to phased implementation options, including remote vs in-person implementations. (3) After Go-Live: Making the software deliver on its promise. How to measure success. How to leverage the tools and resources for continuous improvement.
---
Bookstore
Tim Horan, Steve Deist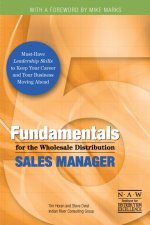 This book, by Tim Horan and Steve Deist, offers a practical but powerful approach for taking your sales force to the next level. It includes key concepts, practical ideas, and real-world stories taken from the front lines of wholesale distribution. This book will give you the essential leadership skills to keep your career and your business moving ahead and performing at higher levels.