Complete Story

10/21/2021
Emotional Intelligence for Sales Leadership
Colleen Stanley
You have the best sales team, the latest technology, information, and education, yet only 53% of sales representatives are meeting or exceeding their quotas. The one-piece most sales leaders neglect is hiring for and developing Emotional Intelligence skills.
Learn how emotional intelligence and the developing critical soft skills required for relationship-building outperform yet more sales technology and fad techniques.
---
Bookstore
Brent Grover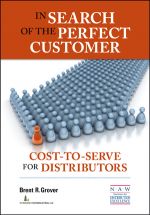 As wholesaler-distributors operate in today's economy, they must protect their most profitable, high-growth potential customers and avoid squandering their precious resources. If your sales compensation plan and other policies encourage your staff to misspend their time and your resources on the wrong customers, now is the time to act. If your company is overlooking opportunities to make money and stop profit leakage, this is the book for you!