Complete Story

10/12/2021
048. P.I.V.O.T. - Strategic & Tactical Leadership through a Crisis to Grow Your Business
Instructor: Mary Kelly, Ph.D., .CSP, Commander, US Navy (ret)
Level of Complexity: Intermediate
9:45 AM - 11:15 AM
Participants get an overview of the current industry challenges, as well as strategic and tactical solutions that solve today's challenges. In addition to getting the 12-Month Business Success and Accountability Planner, everyone gets the Leader's Blind Spot Quiz, generating a personalized assessment that provides a comprehensive understanding of individualized strengths and areas to consider.
Do you know the 6 stages of responses during a crisis? When facing a crisis, most people remain in stages 1-4 of the 6 stages. This is normal and instinctive as people move to protect what is closest to them. There is a silver lining. Every crisis is a catalyst for innovation, creativity, invention, and advancement. This is why leaders have to be in stages 5 and 6. Stages 5 and 6 is where leaders find the opportunities.
In this engaging and entertaining program, Mary uses lessons from the Gulf Wars and 9-11 to get us through the painful aspects of our challenges, embrace change, and turn disruption into evolution. *How can we move our mindset into stages 5 and 6? *How do we brainstorm to find the opportunities? *How do we provide the right leadership that allows our people to thrive during adversity? *How do we encourage creative problem-solving to increase profitability?
---
Bookstore
Brent Grover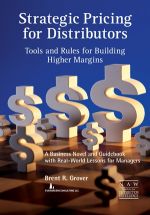 Experience shows that most distributors are leaving at least two percentage points of gross trading margin on the table. This translates into 2% of total sales. Many companies can ultimately achieve more. The improvement is attainable fairly quickly and has proven to be sustainable. Two percent is the difference between mediocre profit results and stellar performance!