Complete Story

10/12/2021
047. Value-Added Selling: How to Sell More Profitably by Competing on Value, Not Price!
Instructor: Paul Reilly
Level of Complexity: Intermediate
9:45 AM - 11:15 AM
Today's sellers face familiar challenges at unprecedented levels. Markets are flooded with tough competitors selling similar products and services. With the commoditization of products and services, customers become increasingly price sensitive. Technology has created even more competition and pricing transparency. It's no wonder that selling value remains one of the greatest challenges facing today's sales professional. This tone-setting presentation introduces you to Value-Added Selling. You'll learn several ideas that will help you implement this go-to-market strategy. In a competitive market, differentiation is key. What sets you apart from your competitors? Why should customers buy from you? How can you get them to return to you again and again? What if I told you that you can compete aggressively and outsell the competition while maintaining your profitability? It's possible through Value-Added Selling. Value-Added Selling continues to be a content-rich message of hope. You can compete aggressively and profitably based on your total value and not on price. The need for this message has never been greater. Here are the topics covered in this presentation: What is value? How buyer's define value; The three dimensions of value; What buyers really care about; The Value-Added Selling philosophy; Innovating your value-added solution; Differentiating your value added; Selling your value added.
---
Bookstore
Paul Reilly
As a sales professional, you know that it's harder to sell in tough times―whether it's a recession, industry-wide challenge, or global pandemic. You may also have noticed that some salespeople and managers not only survive, but thrive through tough times. How do they do it? What do they do to thrive through adversity?
Paul Reilly expla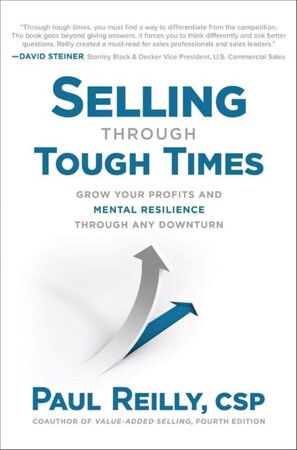 ins it all in Selling Through Tough Times: Customers buy differently in tough times, so salespeople need to sell differently in tough times. In this eye-opening and indispensable guide, he shows how to develop the right mindset and adapt your skills to prevail in even the most challenging selling climate. His plan includes both immediate, hands-on action plans (including six Daily Mental Flex activities) as well as longer-range strategies to ensure you (and your team) never get caught on the back foot again.
While the principals of selling are constant, Reilly demonstrates how changing your tactics in tough times will not only help you through current difficulties, but help you emerge stronger. You'll discover how to redefine value in customer terms, reposition products and services, and how to employ different persuasion tactics. You'll also learn how to select and pursue the right opportunities, win more deals, and―crucially―protect profit by embracing the "tough timers" mental attitude.
Tough times are inevitable and often unpredictable. But in Selling Through Tough Times, you'll find the tools and mindset you need to power through them―and come out on top.
Visit www.ToughTimer.com and complete the 30-Day Tough-Timer Challenge.