Complete Story

10/12/2021
045. Visionary Leadership: Crafting Your Vivid Vision
Instructor: Dirk Beveridge
Level of Complexity: Intermediate
8:00 AM - 9:30 AM
Many leaders throughout distribution get caught up in the day-today and lose sight of what is possible. Great leadership begins with vision. In his book, INNOVATE! How Successful Distributors Lead Change In Disruptive Times, Dirk Beveridge wrote "Without vision there is no change, transformation, and innovation." As a leader it is incumbent upon you to clearly define a future reality - what you and your team are ultimately working towards. Your ability to craft a meaningful, inspiring, and relevant vision is the difference between stasis and change, plateauing and growth, triviality and significance.
---
Bookstore
F. Barry Lawrence, Ph.D., Pradip Krishnadevarajan, Senthil Gunasekaran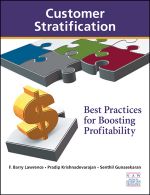 Best-in-class distributors categorize customers based on various factors, but customer stratification has long been an unexplored area for most distribution companies. Not anymore. At last, that gap is filled by this first-of-its-kind research study, Customer Stratification: Best Practices for Boosting Profitability.