Complete Story

10/12/2021
042. Building a Culture of Success: Leadership at All Levels
Presenter: Gail Alofsin:
Level of Complexity: Intermediate
1:00 PM - 4:30 PM
Successful companies have one major thing in common – excellent managers and strong leaders. How do you build a culture of success irrespective of your title? Wherever you are on the "leadership ladder," this presentation is designed to assist you as you build and contribute to a culture of success. From communication and engagement to delegation and conflict resolution, you will depart with the information and tools you need cultivate or improve the characteristics, skills and vision to lead people. Leadership? It starts with YOU!
---
Bookstore
Tim Horan, Steve Deist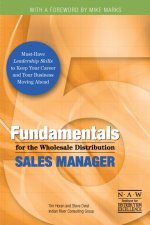 This book, by Tim Horan and Steve Deist, offers a practical but powerful approach for taking your sales force to the next level. It includes key concepts, practical ideas, and real-world stories taken from the front lines of wholesale distribution. This book will give you the essential leadership skills to keep your career and your business moving ahead and performing at higher levels.