Complete Story

10/12/2021
037. Personnel Productivity Improvement: How to Practice No Surprise Management
Presenter: Kathy Newton, Ph.D.
Level of Complexity: Intermediate
1:00 PM - 4:30 PM
In the follow up to Personnel Productivity Improvement: Strategic Recruitment & Onboarding, you will continue with the systems approach to maintaining a productive work environment for your employees. Learn why no-surprise management is important for your effectiveness as a manager. This course will help you manage ongoing change and conflict, as well as provide you the best training tools for advancing your workforce. Lastly, we will discover why you can never tolerate poor management.
---
Bookstore
Brent Grover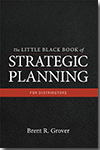 Brent Grover's latest book on the wholesale distribution industry, The Little Black Book of Strategic Planning for Distributors, is published by Modern Distribution Management. This is a concise book covering the critical pieces of creating a strategic plan for a wholesale distribution company including case studies, exhibits and end-of-chapter questions for your management team.