Complete Story

10/12/2021
037. Personnel Productivity Improvement: How to Practice No Surprise Management
Presenter: Kathy Newton, Ph.D.
Level of Complexity: Intermediate
1:00 PM - 4:30 PM
In the follow up to Personnel Productivity Improvement: Strategic Recruitment & Onboarding, you will continue with the systems approach to maintaining a productive work environment for your employees. Learn why no-surprise management is important for your effectiveness as a manager. This course will help you manage ongoing change and conflict, as well as provide you the best training tools for advancing your workforce. Lastly, we will discover why you can never tolerate poor management.
---
Bookstore
Mike Marks and Mike Emerson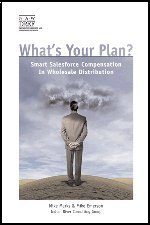 According to authors Mike Marks and Mike Emerson in their book, What's Your Plan? Smart Salesforce Compensation in Wholesale Distribution, there is absolutely no relationship between your sales incentive plan and your likely gain or loss in market share.