Complete Story

10/12/2021
036. The Leadership Imperative
Presenter: Dirk Beveridge
Level of Complexity: Intermediate
1:00 PM - 4:30 PM
Your success as a leader is ultimately dependent upon your ability to align a high potential team around winning ideas. Now more than ever in the midst of uncertainty and volatility, leadership throughout distribution requires building inspired teams, championing change, and creating a culture of high performance. This program will introduce you to a variety of leadership frameworks with a primary focus on how to apply those while inspiring focus, commitment, growth, and results from your team. You'll leave the program with a renewed commitment to creating significant impact for your business as well as each individual on your team.
---
Bookstore
Senthil Gunasekaran, Pradip Krishnadevarajan, F. Barry Lawrence, Ph.D.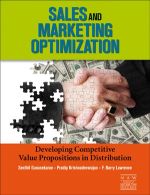 Sales and Marketing Optimization: Developing Competitive Value Propositions in Distribution is a first-of-its-kind, best practices study that focuses on aligning customer needs, sales force priorities, and wholesaler-distributor objectives to maximize value creation.