Complete Story

10/11/2021
020. Leading Relationships
Instructor: Steve McClatchy
Level of Complexity: Foundational
8:00 AM - 11:30 AM
Communicate Effectively, Resolve Conflict, Hold Others Accountable & Lead High Performance Business Relationships If you are in business today you are in the business of relationships. The skills of communicating effectively, working with diverse multi-generational teams, setting expectations, giving and receiving feedback, gaining commitment, resolving conflict, and getting others to follow through can be the most important skills you will ever develop as a leader. In this presentation you will learn the keys to success in each of these areas and how to build relationships strong enough to handle the pressures and tensions inherent in creating, building, leading, and sustaining a fast-changing, high-performance organization. This presentation is guaranteed to change the way you work, interact, communicate, solve problems, and accomplish work through others.
---
Bookstore
Senthil Gunasekaran, Pradip Krishnadevarajan, F. Barry Lawrence, Ph.D.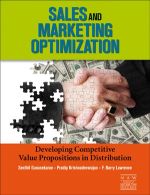 Sales and Marketing Optimization: Developing Competitive Value Propositions in Distribution is a first-of-its-kind, best practices study that focuses on aligning customer needs, sales force priorities, and wholesaler-distributor objectives to maximize value creation.