Complete Story

10/07/2021
029. Creating a Winning Marketing Plan (New)
Presenter: Daniel McQuiston, Ph.D.
Level of Complexity: Foundational
8:00 AM - 11:30 AM
All successful businesses have a structured plan for marketing their products and services. Those firms who attempt to exist without such a plan are doomed to minimal success or even failure. In this session Dr. McQuiston outlines his 10-Step Marketing plan which all firms, large and small, can implement to increase their chances for success. Attendees will also participate in some exercises that will help them to develop their own marketing plan.
---
Bookstore
F. Barry Lawrence, Ph.D., Senthil Gunasekaran, Pradip Krishnadevarajan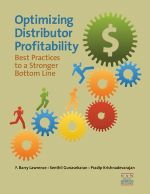 There are 47 best practices in Optimizing Distributor Profitability: Best Practices to a Stronger Bottom Line and all were developed from actual experiences of 84 real wholesale distribution firms across our industry. This groundbreaking research study is not academic modeling or theory; it is a powerful weapon for you to use to enhance your shareholder value.