Complete Story

10/07/2021
029. Creating a Winning Marketing Plan (New)
Presenter: Daniel McQuiston, Ph.D.
Level of Complexity: Foundational
8:00 AM - 11:30 AM
All successful businesses have a structured plan for marketing their products and services. Those firms who attempt to exist without such a plan are doomed to minimal success or even failure. In this session Dr. McQuiston outlines his 10-Step Marketing plan which all firms, large and small, can implement to increase their chances for success. Attendees will also participate in some exercises that will help them to develop their own marketing plan.
---
Bookstore
Tim Horan, Steve Deist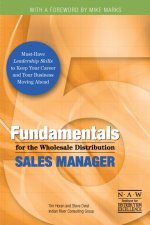 This book, by Tim Horan and Steve Deist, offers a practical but powerful approach for taking your sales force to the next level. It includes key concepts, practical ideas, and real-world stories taken from the front lines of wholesale distribution. This book will give you the essential leadership skills to keep your career and your business moving ahead and performing at higher levels.