Complete Story

10/07/2021
027.Personal Leadership & Time Management
Instructor: Steve McClatchy
Level of Complexity: Foundational
1:00 PM - 4:30 PM
Understanding the psychology of what drives every decision you make empowers you to spend more of your time on the things that actually improve your life and your business, not just maintain them. Consistently improving your life and achieving your goals is not easy. The problem is that goals mean improvement, and improvement means change, and change is not always welcome. Just as a business must never stop learning, improving, and innovating to lead in the marketplace, as individuals we are faced with this same challenge. In this presentation you will learn which decisions accelerate your success, increase your engagement, reduce your stress, prevent burnout and restore the feeling of balance. Steve's infectious energy and thought-provoking style will inspire you with specific actionable content that you can put into practice immediately. If you are interested in learning a decision-making system that can help you achieve more, overcome obstacles, and help you embrace the change that comes with improvement, this is a "don't miss" presentation.
---
Bookstore
Paul Reilly
As a sales professional, you know that it's harder to sell in tough times―whether it's a recession, industry-wide challenge, or global pandemic. You may also have noticed that some salespeople and managers not only survive, but thrive through tough times. How do they do it? What do they do to thrive through adversity?
Paul Reilly expla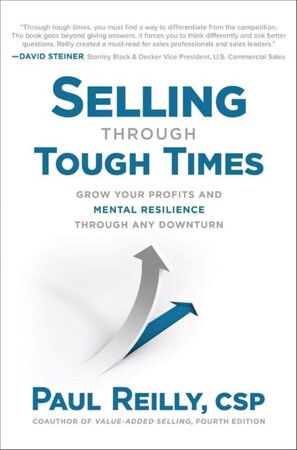 ins it all in Selling Through Tough Times: Customers buy differently in tough times, so salespeople need to sell differently in tough times. In this eye-opening and indispensable guide, he shows how to develop the right mindset and adapt your skills to prevail in even the most challenging selling climate. His plan includes both immediate, hands-on action plans (including six Daily Mental Flex activities) as well as longer-range strategies to ensure you (and your team) never get caught on the back foot again.
While the principals of selling are constant, Reilly demonstrates how changing your tactics in tough times will not only help you through current difficulties, but help you emerge stronger. You'll discover how to redefine value in customer terms, reposition products and services, and how to employ different persuasion tactics. You'll also learn how to select and pursue the right opportunities, win more deals, and―crucially―protect profit by embracing the "tough timers" mental attitude.
Tough times are inevitable and often unpredictable. But in Selling Through Tough Times, you'll find the tools and mindset you need to power through them―and come out on top.
Visit www.ToughTimer.com and complete the 30-Day Tough-Timer Challenge.