Complete Story

10/28/2022
018. Re-igniting Your SPARRK! The Power of Positivity: It' GO Time!
Instructor: Gail Alofsin
Level of Complexity: Intermediate
8:00 AM - 11:30 AM
Your attitude is 100% on YOU. No question. There will be obstacles in your life; roadblocks and situations challenging you to unfathomable extremes. YOU are YOUR Choices. Your positive, realistic and optimistic mindset yields a competitive advantage. Positivity unites – enhancing the spirit of an organization. Positivity creates a powerful connection between your company, clients, and colleagues. Your motivation and YOUR Ikigai will be the catalyst to enhance your Personal Brand (PB) and Emotional Intelligence (EI). Create the life you want with a focus on relationships and outcomes yielding productivity, joy, and profit. You are your company. You are personally responsible for the attitude you assume and the actions that lead YOUR life. Start today with the Power of Positivity. What are YOU waiting for?
---
Bookstore
Paul Reilly
As a sales professional, you know that it's harder to sell in tough times―whether it's a recession, industry-wide challenge, or global pandemic. You may also have noticed that some salespeople and managers not only survive but thrive through tough times. How do they do it? What do they do to thrive through adversity?
Paul Reilly expla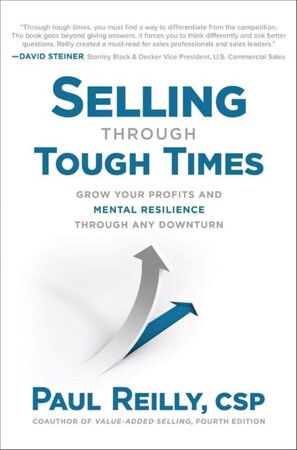 ins it all in Selling Through Tough Times: Customers buy differently in tough times, so salespeople need to sell differently in tough times. In this eye-opening and indispensable guide, he shows how to develop the right mindset and adapt your skills to prevail in even the most challenging selling climate. His plan includes both immediate, hands-on action plans (including six Daily Mental Flex activities) as well as longer-range strategies to ensure you (and your team) never get caught on the back foot again.
While the principles of selling are constant, Reilly demonstrates how changing your tactics in tough times will not only help you through current difficulties but help you emerge stronger. You'll discover how to redefine value in customer terms, reposition products and services, and how employ different persuasion tactics. You'll also learn how to select and pursue the right opportunities, win more deals, and―crucially―protect profit by embracing the "tough timers" mental attitude.
Tough times are inevitable and often unpredictable. But in Selling Through Tough Times, you'll find the tools and mindset you need to power through them―and come out on top.
Visit www.ToughTimer.com and complete the 30-Day Tough-Timer Challenge.