Complete Story

10/07/2021
002. Max Out Margins with Strategic Pricing
Instructor: Steve Deist
Level Of Complexity: Advanced
8:30 AM - 11:45 AM
Better pricing is one of the fastest ways to put more money on the bottom line. But…pricing changes can be complex and risky. This course outlines the steps to build a world-class pricing program that will grow profit while managing short- and long-term risk.

The class covers the key areas of pricing optimization. We start with strategies and tactics for aligning your pricing with the market and your company goals. We review different approaches and concepts, including commodity leadership, value based vs. cost based pricing, and functional discounting. A properly designed pricing strategy must be based on customer segments, so this session provides a framework for effective segmentation.

Next, we look at analytical tools such as pricing basis assessment, mix vs. margin, transaction analysis, elasticity and sensitivity patterns. The data shows you where to start and how to measure impact. Good feedback loops are essential, so we cover these as well as other management tools and incentives. We review best practices for implementation based on the instructor's extensive experience with large scale pricing projects.

The course includes individual exercises and a workbook to help students relate each topic to their own situation as we go. The workbook also contains supplemental material for ongoing self-study.
---
Bookstore
Guy Bissett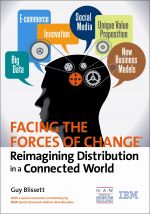 Facing the Forces of Change® is the only major research study analyzing the future of wholesale distribution within multiple lines of trade. Since its inception in 1982, the landmark Facing the Forces of Change® series continues to provide insights about the overall future of wholesale distribution and the role of wholesaler-distributors.