Complete Story

10/07/2021
010. Leaders Are Not Born. They are Built!
Instructor: Randy Disharoon
Level of Complexity: Intermediate
1:00 PM - 4:30 PM
In this course, participants will learn the four phases of leadership development: 1) Build Within – they will conduct a personal leadership assessment and begin to assimilate the four keys to developing their capacity to lead themselves and others. 2) Build Around – they will employ the five keys to recruiting and retaining top talent and cultivate the power of communication. 3) Build Up – they will discover the seven steps to developing a winning culture and how to lead during times of change and/or crisis. 4) Build Out – they will strategize how to influence their industry and community and brainstorm ways to pass success on to the next generation of leaders.
---
Bookstore
F. Barry Lawrence, Ph.D., Pradip Krishnadevarajan, Senthil Gunasekaran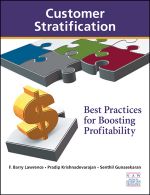 Best-in-class distributors categorize customers based on various factors, but customer stratification has long been an unexplored area for most distribution companies. Not anymore. At last, that gap is filled by this first-of-its-kind research study, Customer Stratification: Best Practices for Boosting Profitability.