Complete Story

10/28/2022
016. How to Strengthen Your Sales Team's Selling Skills
Instructor: Jim Pancero, CSP, CPAE
Level of Complexity: Intermediate/Advanced
8:00 AM - 11:30 AM
In this interactive workshop, Jim will show you, as the leader of your team, the selling skills you most want and need within your reps in today's post-virus, hyper-competitive selling environment. You will learn the evolution of selling explaining why so many of your senior sales reps are still stuck in outdated and ineffective selling philosophies. We will discuss the selling skills you most value in the next sales rep you hire. You will also learn the five most critical selling skills (in addition to product knowledge) your team needs to achieve long-term selling success. A detailed workbook/action guide will be provided to help you take these ideas back to share with your sales team that includes a twenty-question evaluation of a sales rep's selling skills.
---
Bookstore
F. Barry Lawrence, Ph.D., Senthil Gunasekaran, Pradip Krishnadevarajan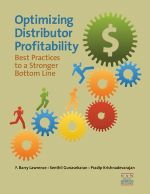 There are 47 best practices in Optimizing Distributor Profitability: Best Practices to a Stronger Bottom Line and all were developed from actual experiences of 84 real wholesale distribution firms across our industry. This groundbreaking research study is not academic modeling or theory; it is a powerful weapon for you to use to enhance your shareholder value.