Complete Story

01/11/2021
007. Tool Up: How to Select, Implement, and Manage Software so that your Technology Works for You
Instructor: Anne Patterson (New to UID)
Level of Complexity: Foundational
8:30 AM - 11:45 AM
Today's Small to Medium Enterprises (SME's) have an unprecedented selection of software solutions. And cloud-based hosting has virtually exploded the number of options. With a plethora of alternatives, however, comes challenges: how to select the solution that best fits your company's needs? And once selected, how to implement – without bleeding the organization's budget and bandwidth? And once implemented, how to leverage to move the needle on operational performance?
These are the three questions we'll cover in our course "Tool Up: How to Select, Implement, and Manage Software Solutions". Learn how to make technology work for you, not the other way around.
The course covers three topic areas:
Software selection. Know what you need: clearly define your must-haves and nice-to-haves BEFORE you start looking for solutions. [A sample needs analysis template will be provided to students.] Where to look? What to look for? Cloud vs server?
Implementation: The recipe for success, from team structure and accountabilities to phased implementation options, including remote vs in-person implementations.
After Go-Live: Making the software deliver on its promise. How to measure success. How to leverage the tools and resources for continuous improvement.
If you've been tapped to lead a major software implementation at your company in 2022, this course is for you.
---
Bookstore
Mike Emerson, Steve Deist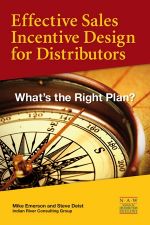 Effective Sales Incentive Design for Distributors: What's the Right Plan? is designed for top wholesale distribution executives and sales managers who are looking for the answer to this question: "How can I get my sales reps to just do what I want them to do?"