Complete Story

01/11/2021
024. Make It a Process… Key Elements of Sales Management
Instructor: Joe Ellers
Level of Complexity: Advanced
1:00 PM - 4:30 PM
The role of sales management has changed over the past 25 years. The primary change is a shift from customer relationship management to the need for more focused, proactive sales effort. In this course we will address the core elements of effective sales management, including a set of specific tools that can be implemented immediately: The Sales Planning Matrix, Product/Market Focus, Target Accounts (and Prospects), Calendar Management, Opportunity Management, and Joint Calls.
---
Bookstore
F. Barry Lawrence, Ph.D., Senthil Gunasekaran, Pradip Krishnadevarajan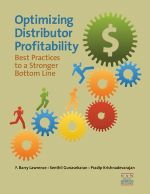 There are 47 best practices in Optimizing Distributor Profitability: Best Practices to a Stronger Bottom Line and all were developed from actual experiences of 84 real wholesale distribution firms across our industry. This groundbreaking research study is not academic modeling or theory; it is a powerful weapon for you to use to enhance your shareholder value.