Complete Story

01/11/2021
024. The Best Currency in Times of Disruption
Moderator: Dirk Beverage Panel: Mary Kelly, Ph.D., CSP, Commander, US Navy (ret), Mike Marks, Paul Reilly
2:50 – 3:50 p.m.
Our panelists have each lived through adversity and tough times that have put all of their skills to the test. Through trial and error, they have each established their own brand of currency that has helped them survive and thrive during tough times. They will talk about establishing trust, maintaining the right attitude, and ensuring you have the tools to stay organized and focused. Participants will have the opportunity to submit and select the questions the moderator will ask of the panel. This course is worth attending.
---
Bookstore
Senthil Gunasekaran, Pradip Krishnadevarajan, F. Barry Lawrence, Ph.D.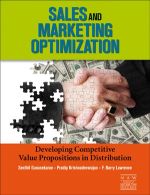 Sales and Marketing Optimization: Developing Competitive Value Propositions in Distribution is a first-of-its-kind, best practices study that focuses on aligning customer needs, sales force priorities, and wholesaler-distributor objectives to maximize value creation.