Complete Story

01/11/2021
018. Personnel Productivity Improvement: Strategic Recruiting & Onboarding
Instructor: Kathy Newton, Ph.D.
Level of Complexity: Intermediate
4:10 – 5:00 p.m.
You will learn how to take a "systems" viewpoint of the organization; learning tools to identify productivity gaps in your firm and working towards a balance for employee activities such as recruiting and hiring great people, onboarding and training, compensation and incentives, performance evaluation and employee development. Learn how to effectively manage your organization, take a systems approach to productivity using employee-based management and strategically plan for the future of your business using the knowledge of changes occurring now in the workforce. Understand the most effective recruiting and hiring skills; how to reevaluate and update your hiring practices to avoid turnover.
---
Bookstore
F. Barry Lawrence, Ph.D., Senthil Gunasekaran, Pradip Krishnadevarajan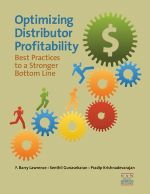 There are 47 best practices in Optimizing Distributor Profitability: Best Practices to a Stronger Bottom Line and all were developed from actual experiences of 84 real wholesale distribution firms across our industry. This groundbreaking research study is not academic modeling or theory; it is a powerful weapon for you to use to enhance your shareholder value.