Complete Story

01/11/2021
017. Trust Is Not Enough: How to Create a Work Environment Based in High Levels of Respect
Instructor: Skip Weismann
Level of Complexity: Foundational
3:10-4:00 p.m.
Dozens of books have been written about trust in the last two decades and each layout the case for the power of trust, but they ignore the higher value of respect. Civility and respect seem to be at an all-time low in society and in the workplace. This course will explore the power of trust, the importance of context in trust, and five aspects of trust necessary to make work relationships work and participants will explore why trust is not enough. A distinction will be made between trust and respect that will foster a deep discussion to identify the differences and most importantly workshop activity to define specific measurable and observable behaviors that will build on trust to get to respect in a workplace relationship and across a team or work environment.
---
Bookstore
Senthil Gunasekaran, Pradip Krishnadevarajan, F. Barry Lawrence, Ph.D.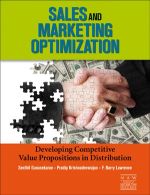 Sales and Marketing Optimization: Developing Competitive Value Propositions in Distribution is a first-of-its-kind, best practices study that focuses on aligning customer needs, sales force priorities, and wholesaler-distributor objectives to maximize value creation.