Complete Story

10/15/2020
030. The Evolution of Sales: Web Search Secrets to Find the Right Leads, at the Right Time, with the Right Message
Instructor: Sam Richter
Tuesday, March 16, 2021, 8:00 – 11:30 a.m.
In a prospect or client meeting, do you talk mainly about you and your organization? Or is the conversation focused on the other person and what he or she cares about? Do you make your prospects and clients feel important? Are you relevant? It's no longer enough to be interesting. In today's world you need to be interested. In this dynamic presentation, you will discover ways to find online information (that 99% of people have no clue how to do) and apply it to immediately grow your business. The Evolution of Sales is not a new sales process; don't worry, you're not starting over. Rather, it's an evolution of how to use a powerful set of online search resources to identify opportunities and approach prospects in ways where your message is welcomed and appreciated, in any economic environment.
Sam Richter
Sam is the founder of the #1-rated Know More! business improvement program and author of the award-winning and best-selling "Take the Cold Out of Cold Calling" book. Sam is considered the world's foremost expert on Sales Intelligence – finding information and then using it to identity new opportunities, win more business, and to build deeper and more meaningful client relationships. Learn how to grow your business through better information at Sam's Know More University Center.
---
Bookstore
Mike Marks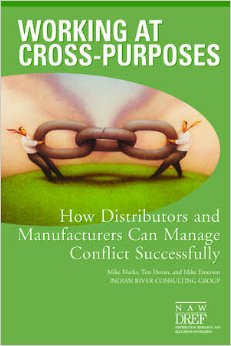 It takes a long time to develop good distributor-supplier relationships; unfortunately, it only takes a short time to destroy them. Best seller Working at Cross-Purposes, written by Mike Marks, Tim Horan, and Mike Emerson, takes a look at what really drives these relationships, how often they go bad, and why.