Complete Story

10/15/2020
006. How to Keep Your Top Talent from Becoming Someone Else's
Instructor: Lisa Ryan
Sunday, March 14, 2021, 8:30 – 11:45 a.m.
It's no secret. Your best employees have the power to take their skills to your competition. Your favorite customers can source products and services from anywhere in the world at the click of a button. The bottom line is that you are faced with an enormous challenge: keeping your top talent and best customers from becoming someone else's! In times of high unemployment, it's even more important for you to retain the key people who keep your distribution center running. Your best people not only know your business, they know how to get results - and they are difficult to replace. Research shows that 68% of customers stop doing business with a company because they feel ignored, unappreciated or taken for granted. If your employees aren't engaged, your customers won't be either.
Lisa Ryan

Lisa Ryan, CSP, helps organizations develop employee engagement strategies that keep their top talent from becoming someone else's. Lisa is a Certified Speaking Professional and best-selling author of ten books, including "Manufacturing Engagement: 98 Proven Strategies to Attract and Retain Your Industry's Top Talent." During her twenty-plus year sales career, Lisa spent 13 years in industrial distribution, including seven years in the welding industry – and yes, she does weld. Lisa is a proud Cleveland native and received her MBA from Cleveland State University. She has been blissfully married to Scott since 1996 and they are the proud parents of two very spoiled cats.
---
Bookstore
Paul Reilly, Tom Reilly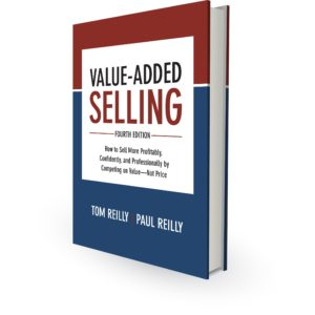 "Value" is about more than just price. Good salespeople understand that and know what differentiates their products from that of competitors. In the first edition of Value-Added Selling, industry guru Tom Reilly tackled the most common problem that salespeople faced: overcoming customer concerns about pricing. That book went on to become the global, go-to guide for value-added selling. Since then, the industry–and the world―has changed dramatically. Developments in technology, including price comparison apps and search engines, now provide consumers with more information than ever, making it much harder to value and sell your product. Additionally, millennials, who now comprise the largest population in the workforce, prefer to do things differently than prior generations. This updated fourth edition of Reilly's classic guide examines the latest trends and technology that have impacted the market and provides expert advice on leveraging current technology to increase sales.


Value-Added Selling, 4th Edition offers proven strategies and tactics to help you not only close more sales but improve repeat business without compromising on price. You'll learn how to anticipate the needs, wants, and concerns of buyers from the very beginning of the sales process. The book shows how to compete more profitably by selling value, not price.