Complete Story

02/14/2020
In Case of Emergency, Break Glass!
Mary Kelly, PhD, Commander, US Navy (ret)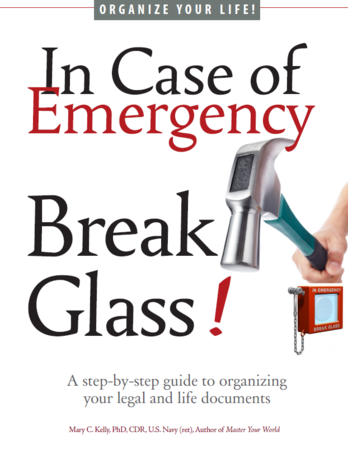 If you had to evacuate, would you be able to grab all of your important papers in less than a minute? If something happened to you, would a trusted friend or family member be able to take care of your family, business, and other obligations? Simplify the process of organizing and understanding your most important documents, and make it easy on other people in case you cannot act on your behalf.
Does your family know what to do in case something happens to you?
Do you have a process in place for what happens next?
Who takes care of your children, your parents, and the dog and cat?
This manual makes everything easy! The In Case of Emergency, Break Glass! book walks you through the details you need to have in place to take care of your friends, family, and business responsibilities. Topics include: Letters of Instruction, Wills, Trust, Powers of Attorney, Health Care Directives, Finances, Insurance, Memorial details, and caring for children, seniors, and pets. Make your family's most difficult time easier by getting this done!

Buy Now
---
Bookstore
Mary Kelly, PhD, Commander, US Navy (ret)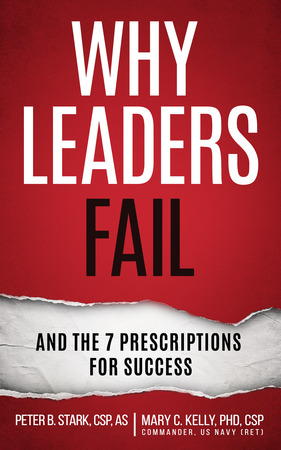 Why do so many leaders fail, and what do the best do differently?
Whether you're in your first year of leadership or your 20th, Why Leaders Fail is a must read for aspiring leaders who know they need to be constantly learning, improving, and developing their leadership skills.
Gain insight into behaviors that may be sabotaging the loyalty of your direct reports.
Identify the barriers undermining your team's ability to get things done.
Understand why your top talent may not be performing up to their potential.
Gain tools to help you align team goals with the organizational mission.
Gain awareness of how you are perceived by your direct reports, peers, and supervisors.
49 actionable prescriptions for success.
Facilitate an environment where employees can grow and develop to their full potential.
Free access to a personalized leadership assessment to identify your leadership strengths and weaknesses.