Complete Story

10/29/2019
Sam Richter
Sam is the founder of the #1-rated Know More! business improvement program and author of the award-winning and best-selling "Take the Cold Out of Cold Calling" book. Sam is considered the world's foremost expert on Sales Intelligence – finding information and then using it to identity new opportunities, win more business, and to build deeper and more meaningful client relationships. Learn how to grow your business through better information at Sam's Know More University Center.
---
Bookstore
F. Barry Lawrence, Ph.D., Pradip Krishnadevarajan, Senthil Gunasekaran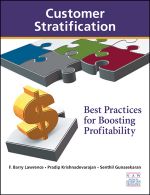 Best-in-class distributors categorize customers based on various factors, but customer stratification has long been an unexplored area for most distribution companies. Not anymore. At last, that gap is filled by this first-of-its-kind research study, Customer Stratification: Best Practices for Boosting Profitability.